The Register Covers The Revolv DB Migration
---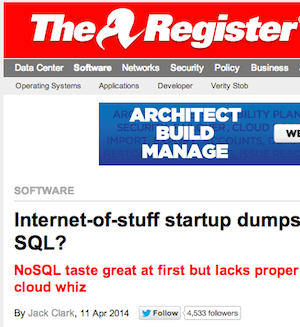 The Register's Jack Clark wrote a short piece on Revolv's database migration based on my blog post from last week and an interview we did on Friday. I found the conclusion to the article to be a fairly phrased and well-put summary of the NoSQL/SQL issue:
We here on El Reg's database cluster are sure that NoSQL technologies have some great benefits (the flexibility of a document-oriented system like MongoDB, or the resilient ring-storage structure of Riak, for instance), but many startups risk being spiked by arcane problems that come about as they scale. We recommend they take a hard look at traditional systems and work out if they can have a relationship with them. [That's enough—Ed.]
Thanks, El Reg, for stating the point so clearly.
---
---