Built in Colorado Profile
---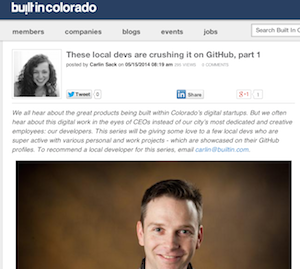 Built in Colorado covers the latest news on startups and high tech in Colorado. Today they ran a feature on Colorado developers who run active GitHub projects. I am really excited to be one of their chosen featured developers for this series.
I had the opportunity to talk about some of my recent projects, the excellent experience of moving to Colorado, and some of the cool things my team at Revolv is doing.
As an aside, Built in Colorado is built in Drupal.
---
---