Go In Practice - The Autobiography
---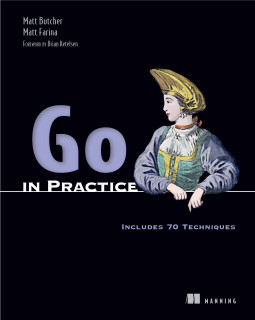 Go in Practice is now available in print and ebook. After a long haul for Matt Farina and I, the book is complete. Pausing for a moment, I realize how, behind all the code samples and callout boxes, some small part of life is captured in those pages.
Matt and I each went through some pretty crazy life events as we tried to get the book done. During the course of writing:
Revolv, where I was "Head of Cloud", released its first IoT product
At our editor's prompting, we changed the name of the book from Go for the Cloud to Go in Practice
Matt Farina and I released numerous versions of our favorite side-project, Glide
Our first editor left Manning, and we were shuffled through two or three more editors.
Revolv was acquired by Google, and I got moved into Nest Labs
Matt Farina survived the Great HP Split, and became part of the HPE spin-off, working with the inimitable open-source powerhouse Brian Aker.
I left Nest to join Deis, where I architected Deis Workflow, wrote The Children's Illustrated Guide to Kubernetes, and created Helm.
And in addition to this we each had our personal lives, including all the humor, tragedy, and joy that comes with raising young families.
When I flip through the pages of the book, those memories float out to me. The examples remind me of what we were working on when we wrote them. The chapters remind me of what was going on in life. Writing a technical book is a peculiar way of writing an autobiography. The way we code, what we code, and why we code changes as we grow. And here in my hands is a captured moment along that journey -- meaningful perhaps only to me (and Matt)... but meaningful nonetheless.
---
---